Oh my! Where should i start? Well, first of all, i wanna say thanks to my best friend who helped me to get my airline ticket since i dont have a job :(
We got a great deal with spirit airlines with 50off but i still gotta pay her back.. Haa!! But she insisted i had to go.. Isnt she nice? Wow!! Now my next problem was my parents because they will get annoying when it comes to enrique.. Haaa!! I know im old enough but i live with them and i gotta tell them my plans. I was soooo scared, u can ask melissa, flor.. I didnt wanna go to NY anymore...that's why i didnt say anything to nobody in here because i wasnt sure about going, so i decided to write an email to my mom 3 days before leaving.. Haaa!!! And thanks god she didnt say a word, she just replied to my email but she didnt make a huge deal...now, it was my dad's turn.. Oh my!!! So sorry to say this but i lied to my dad :( i told him about some job fair in orlando florida hahaaaa!! Oh my!! So sorry dad!! And thanks god he didnt say anything, he just asked me some questions but no big deal.. Next thing.. Yay!!! Ready for NYC!!!!
Well,  My sister took me to the airport at 4am... I didnt even sleep, i was soooo nervous already since i was arriving to some laguardia airport in NY and i didnt even know how to get to the city. Welll, i came 1 hour before my departure time and suddenly all the self service check in were down... Oh noooooo!! And the counter was full... Oh my!! Not again!! I didnt wanna lose my flight!!! Which is usual from me.. Hahaaa!!!! But thanks god i was able to make it. Ok.. I arrived to NY, great memories!!! But then i realized... WTF am i doing here? Hahaaaa!!!!! So i got to the NY airport at 8am and tried to rest for a moment and at the same time trying to figure out how to get to the city.. Hahaaa!!!! So i got to the airport around 8am and it was too early to meet with cristina, she was flying from chicago.. I know! Losers! Haaa!! I was going to meet with her at 6pm so can u imagine? I Had to wait at the airport for a lot of hours, so i stayed there and tried to sleep since i left too early from my house... finally, I left the airport around 1pm so i started asking people how the hell get to the city. Some really nice people helped and thanks god i arrived to the city.. Haa! I got there around 3pm, so i still had to wait for cristina, so i went to time square, took some pics, i started looking for places to eat, hello! i didnt have any food at all since the day before Haha!! Finally i met with cristina around 6pm she was wearing her cute spain jacket.. Hehe! Ok.. Now, this is when the worse started... I went to meet with cristina and she got a delayed on her bag.. Ahhh!! Plus we didnt have any hotel reservation, oh my!! We didnt know what to do.. Finally she got her bag around 9pm!!! Oh my god!!!! So i got best idea ever!! Hahaa! Dont laugh! Ok since i am member from bally total fitness, i told cristina to get there and get changed, take shower, and leave our luggage in the locker.. Hahaaa!! Plus that place was closing at 10pm, so we got her bag,  left the train station, asked for direcctions, started running haaa!!! So we got to the gym and the lady told us, we were in the wrong gym.. Ahhhh!! It was 9:30pm i guess, so she told us about another bally, so we started running and nothing! We couldnt find the place.. Haaa!! It was 9:40pm i guess and we decided to take a taxi.. Haa!! Oh my god! It was so far by walking... But we got there at 9:50 haaa!! And the guy from the gym looked at us and he was like.. R u exercising for 10min? Hahaaa!! So i made up some stories about other ftiends, and we just wanted to get something from the locker, so he let us in.. oh my! We took a shower, got dress in less than 10 min haaa!! And the guy came to close and he was like.. Woooh! U guys still here? Hahaaa!!! So we told him the truth, we were going to the today show for enrique... Hahaa!! So we stayed there more time and finished. The guy was so nice, he even wished us good luck.. Hehe!! Ok, then we ran to the rockefeller plaza and it was 10 people in front of us...finally around 11pm, we just waited and waited, there were people from mexico!! Wow!! But we just waited there, but this friend Chanell told me she got an extra VIP from the universal contest, so she was meeting with me but she never showed up, so i sent her a twitter and told me she was on her way.. Then people started coming in and thanks god! Cristina told me to go to Mcdonalds to get something to eat but i wasnt even hungry, so i waited for her to finish eating. Then we went back to the place and we saw a girl in a different line.. Oh no! So she told us that line was for people with fan passes, so i told cristina i will stay in the line so she could get our stuff from the regular line where we met other nice people.. I was with cristina waiting and waiting in the fan pass line and i was worry about chanell so i decided to look for chanell and i found her mom and i finally met with her,  she is such a sweetheart!!! She remind me so much to my cuban friend.. Hehe!!! She came all the way from dominican republic.. Wow! Hehe!! So she told me she got an extra vip...ahhhhhh!!  She was my guardian angel.. Hehe!!
Then we saw another empty line for vip people... Ahhhh!! How cool!! We were the first ones!!! So i felt bad for cristina, i didnt know what to do, so i told cristina to stay in the fan pass line and i told her i will try to see if i can get an extra one for her so,  i texted another fan for vip, but i couldnt reach her. At the same time, chanell didnt have any confirmation email about the vip, so we asked some really nice guy.. RICHIE!!! hehe! He was god itself.. Haaa!! 4 real!! Ok.. This guy told us to stay in the VIP, but we kept insisting we wanted to be sure, so he was like.. "Dont worry! I got u! U 3 are my guests, so forget about those VIP, u r with me" haaa!! Ahhhh!!! So, More people came to the vip then i was talking to another fan, and she was so nice too, she was worry about the Vip passes 'cause she didnt have any confirmation either, so suddenly her face was so familiar plus i was telling cristina and chanell about this girl with a tattoe.. Ahhhh!!! And it was her!!! I cant believe i didnt recognize her. So we were waiting there, but also worry because this guy richie dissapeared, he said he was coming back at 5am haaa!! Well, after waiting and still worry about cristina, guess what? Richie came straight to us,  saw us and called us and put us in another line.. Ahhhh!!! Haaa!! We were like granddaughters for him.. He was a cute old guy.. Really nice!! So we told him our friend was alone in the fan pass line, but he couldnt let more people in,  but then he changed his mind and told us it was ok but only 1.. So we called cristina.. Yay!!! So we still waited and waited.. I think around 6am people got their VIP thingi and we didnt get one, so we were scared.. Hahaa!!! Only the 4 of us didnt have the pass... Finally richie came to us, and told us.. Ok.. Come with me girls!... Ahhhhhhh!!! We were right there, we were able to choose any place we wanted.. Hahaa!!! Sooo lucky!!! Thank u richie wherever u are!!  Haaaa!!!!! Then the rest of the VIP people came in..we were soooo nervous already... Finally the band showed up around 7am i guess and started rehearsing.. And then.. Ahhhhhh!! Enriqueeee!! With those sexy white pants!!! Ahhhhh!!!! Cute papi!! We started screaming, singing.. And the people in front got their mouth open because we knew all the lyrics.. Hahaa!!!! Oh my god!! My legs!!! I couldnt feel them no more, but we still waited. Finally enrique started singing around 8:30am.. Ahhhhhhhhh !! So exciting!! He sang 3 songs only, but it was so worth it!  He said hi to me only once... Probably he said inside of him...."not again this ANNOYING girl" haaa!!! Sorry enrique!! I wont bother u anymore...promise!! Hahaa!!! Also when they said pitbull.. Ahhhh! I started screaming and i dont even like him.. Haaa!! I was also holding my sign "miami is here" and he saw it and pointed it out and smile with me.. Sooo nice!! But finally i was going to see pitbull singing.. Dale mamita tirame ese baile.. Haaa!!! 
Kike also sang hero to a lucky fan... So cute!! I was going to jump to the stage.. Haaa!! But nah!! Haha!! Finally the event was over, he took some pics with other fans, and we told the girls to run to the other show.. It was crazy!!! Like 10 blocks i guess!! Poor legs!! Oh my!!! I wanted to stop but chanell's mom told me to keep going... Haa!!! so we got to the place.. Oh my!! It was soooooo packed!! No way jose!! ( madre) so we waited in lane around 10am i guess and it was hot!!!! I had to change my tshirt 'cause i felt dirty.. Haha!!! So we waited and waited.. We didnt have no VIP haaa! So it was almost 12pm, we got our bracelets.. I was sweating, tired, oh my!! I know we were going to be all the way in the back..so i told them i was leaving the line and get to the back of the stage 'cause i was too tired already.. Soooo crazy!! So they agree to come with me... . So we went to the back and we found a great view to see the show... And then.. Ahhh!! What? Enrique was already there rehearsing!! Haaa!!! So we screamed.. Enriqeee!! And he looked at us and said hi.. Hehe!! So he stopped rehearsing and left and i saw him taking pics with other fans, so i told chanell to go check if we can at least say hi to him, and cristina stayed there eating with chanell's mom.. So it was too many people and he left.. suddenly we saw people getting inside the show, so me & chanell just skipped some people and got inside.. Hahaaa!! We were right there in the front..Haaa!! So i quickly called cristina on the phone and told her to hurry!!  But she didnt have luck, but she got inside, but it was already crowed, so she was in the back that i couldnt bring her with me  :( but still enrique sang only 2 songs... But it was awesome!! We screamed like crazy.. He was so happy with the audience.. Yay!!
As soon as he finished, chanell and cristina tried to touch him but i couldnt see anything and i ended up in the back haaa!! And i lost them, so i left to the other exit if i can at least say hi to enrique,  it was just too crazy. Oh my! I didnt have enough battery, chanell didnt have a cell phone.. But we agreed if anything, if get lost, we will meet in a specific place. Thanks god at the end, i found them and we just waited for enrique.. Finally, he showed up.. He was soooo cuteeee!! With his spain jacket, he rushed to his car and left :( . After that.. I cant tell u what happened.. Haaaa!!! It's our top secret! Haaa!! But we had a blast in NY!!! 2 shows in 1 day!!! Yay!!! Sooooo exciting!!! I want moreeee!! But u cannot imagine all we had to do for enrique... It was too much and it's over! Haaaa!!! Oh my'!! Well, after that i left with cristina, said bye to chanell...we went back to the gym, got dressed and left to different directions.. Haa!! Oh my!! I had to go to new jersey!!! Oh my!! Enrique didnt give me a ride back!! Instead i took a shuttle!! Hahaaa!! How embarrasing!! Haaa!!! Plus i had to walk like 20 blocks!!! Oh my!! I swear of god i didnt feel my legs no more :'( . Finally i met with my best friend from high school and we ate wings from hooters.. Yummy!! Hehe!! I stayed with her, oh my!! I finally slept in a bed..jesus christ!! Haaa!!! I had so much fun with her. And then back to my miami!! Yay!!!!!! Now i gotta rest, no more enriqe for a good time, my legs still hurt!! Haaa!! Well, i hope u enjoy my story, pics and videos!!! Yay!!!! Sooooo happy days in ny!! Another adventure!!! Woooohooo!!!$$$$$ haaa!!!
Fotos
NYC!!!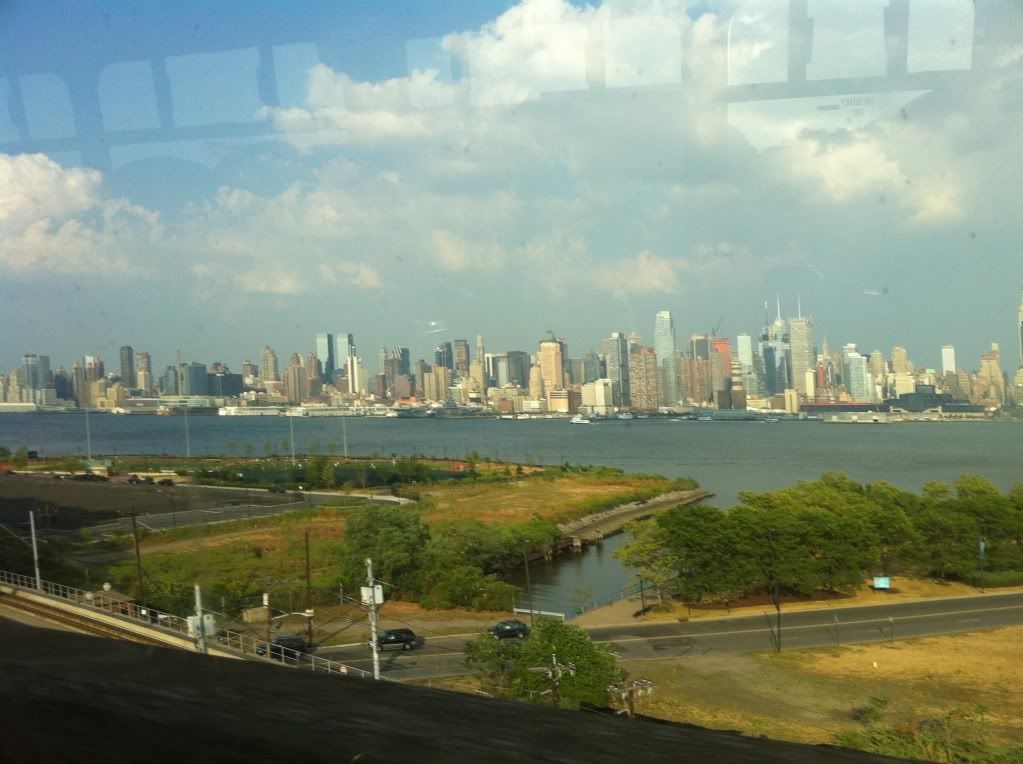 In time square
M&m!! Haaa!!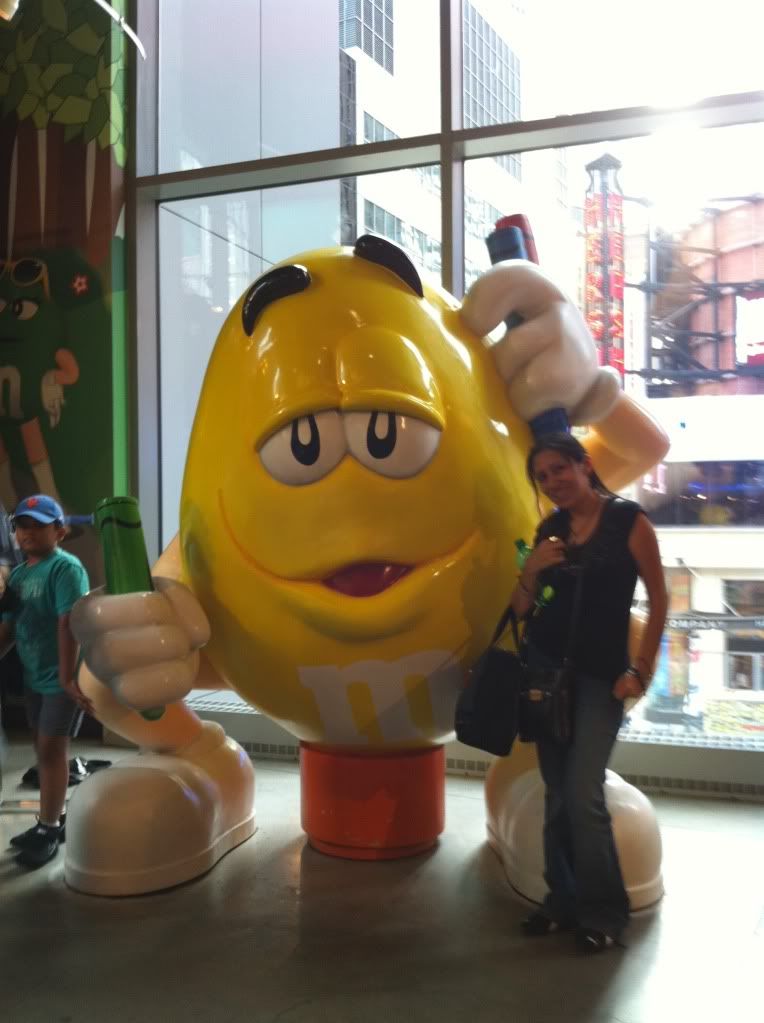 Waiting for cristina
Finally changed & clean haaa
People waiting in line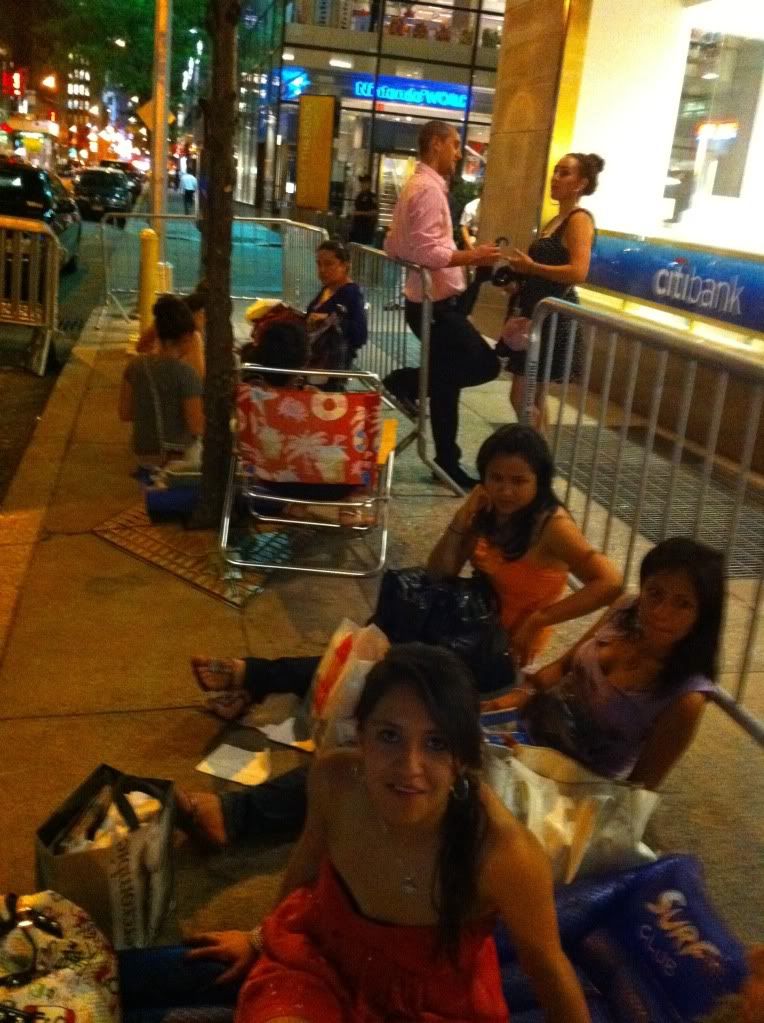 Miami is here! Haaa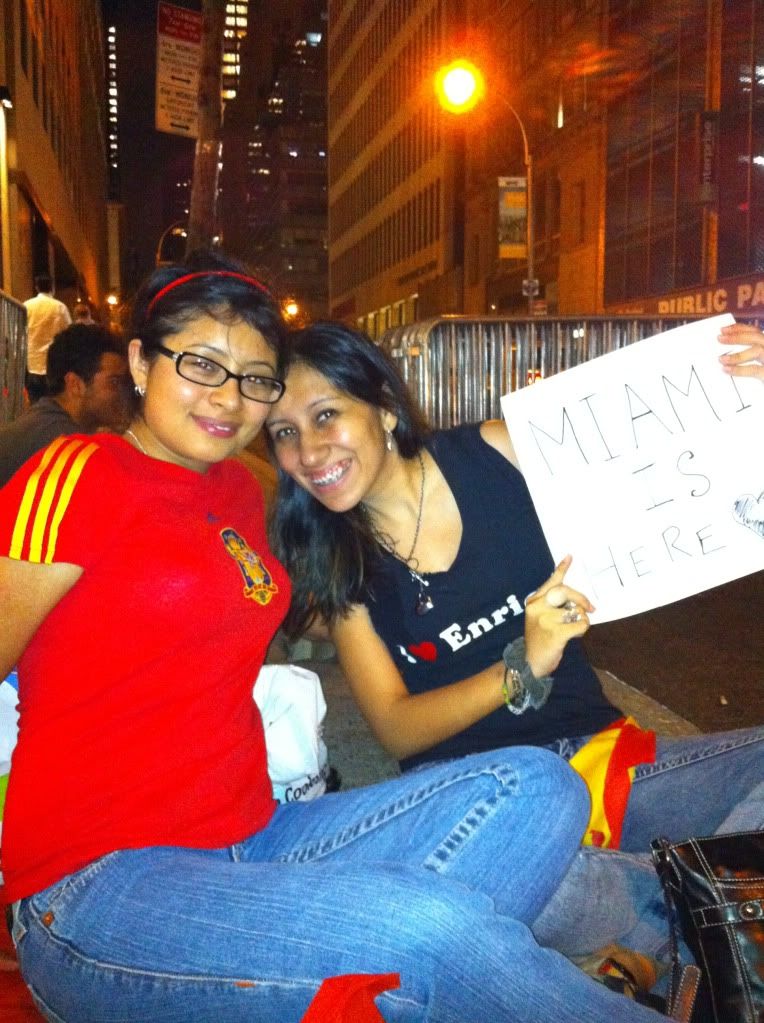 Yay! U like my tshirt?
Spain baby!!
Damn! People sleeping!! Wow!! I couldnt do it!!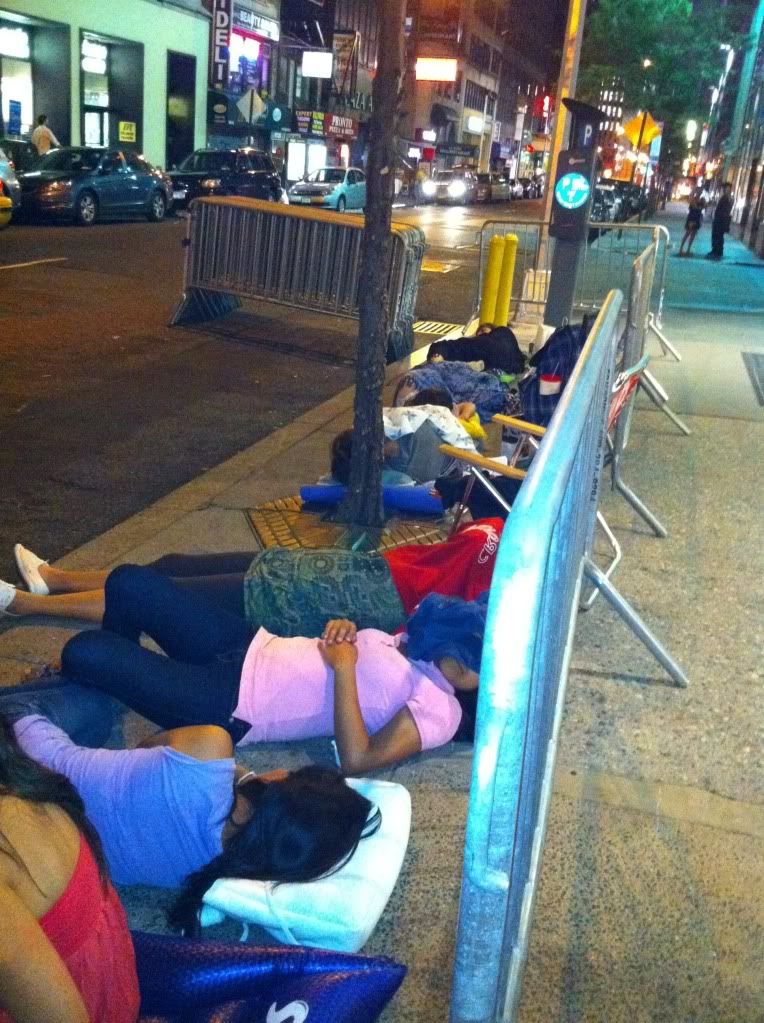 Haaa!! We couldnt take it anymore.. Haaa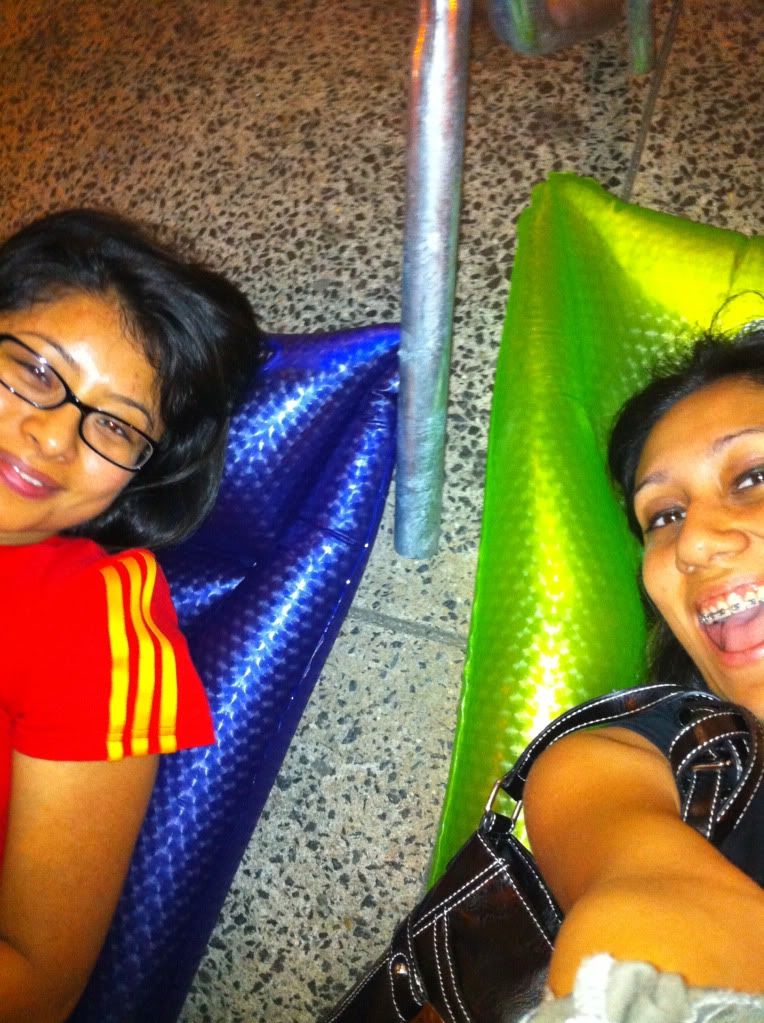 Chanell & I.. Vip line!!
Finally the 3 of us!!! In the front!!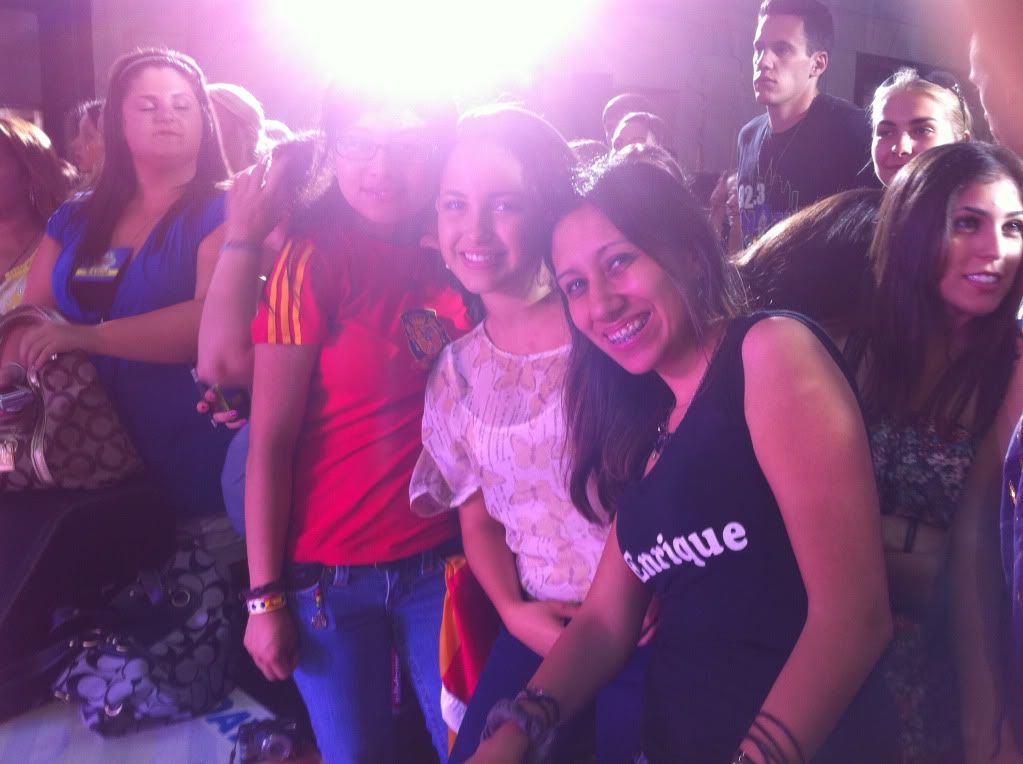 Finally!! The stage!!
Ahhhhhh!! Rehearsing!! Todo divooo!!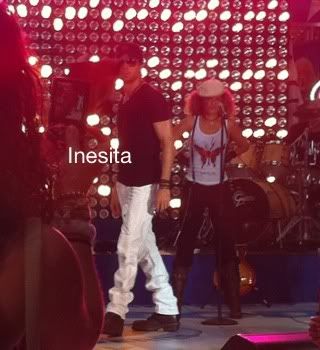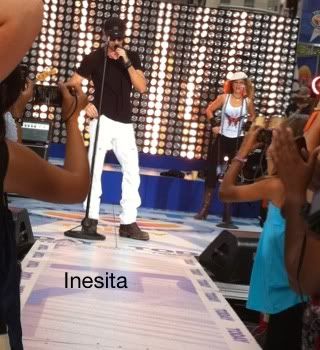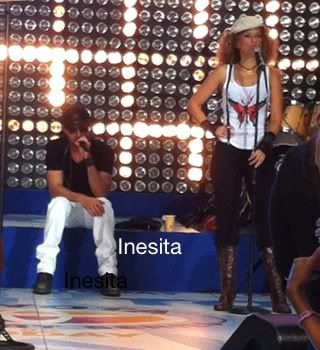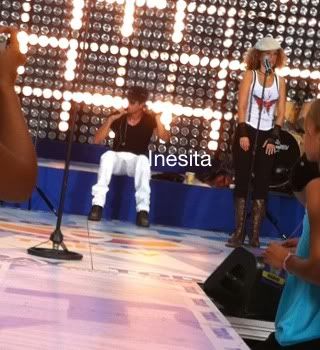 Sexy pose!!
"im telling u!! Go kiss your wife!!" haaa!!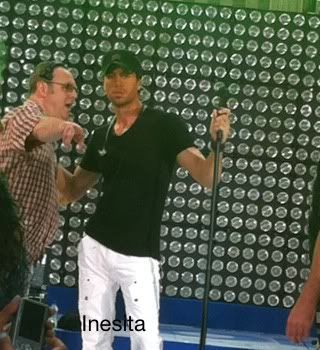 Ahhhh!! About to start!!!
Euphoriaaaaa!!!
Ionaaaa!! Dont faint !!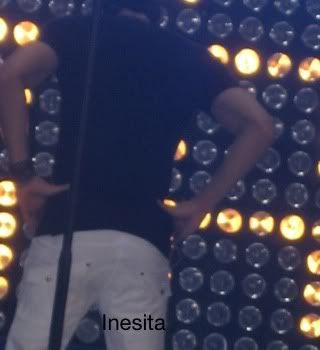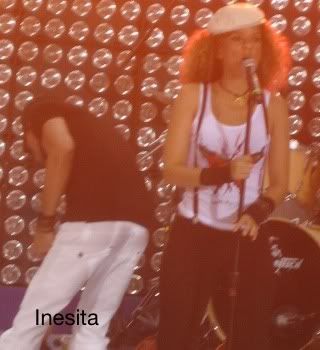 Ahhhhhh!! Get ready!!!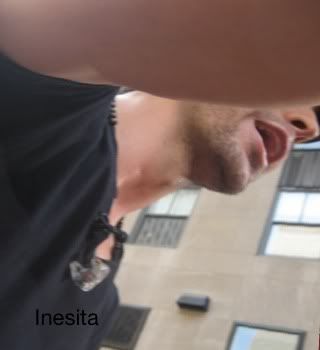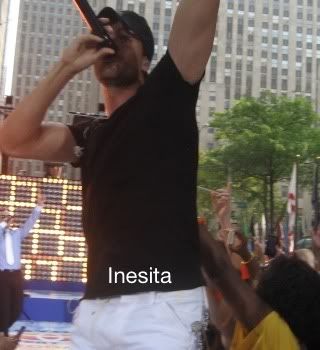 Flor!! Your baby!!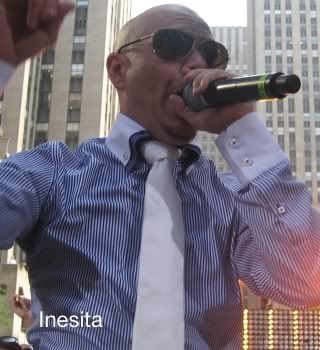 Lovely pic!!!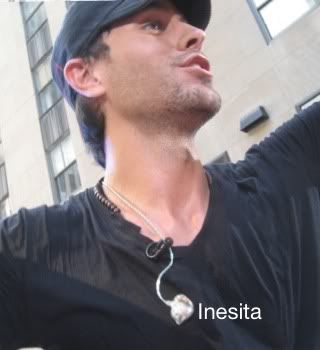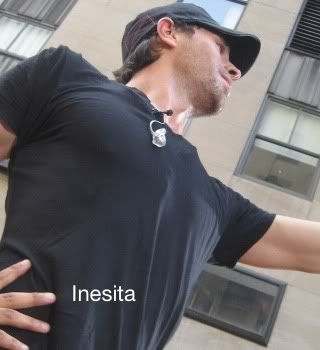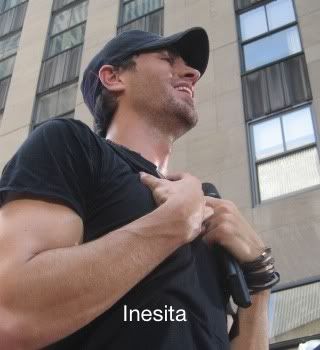 Oh my!!
Wtf!! He was looking at me!! Haaa!!! Cheater!! Hahaaa!!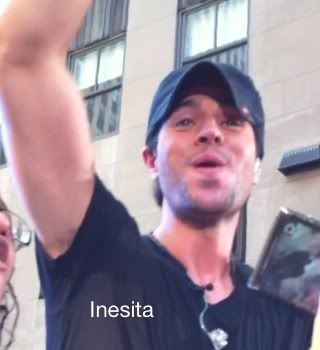 Ahhhh!!! Videos!!!!
Rehearsing
Be with u
I like it
Hero
I had to post this pic.. It's soooo cute!!!! From cristina.. Haa!! The crazy girls first row baby!! Haaa!!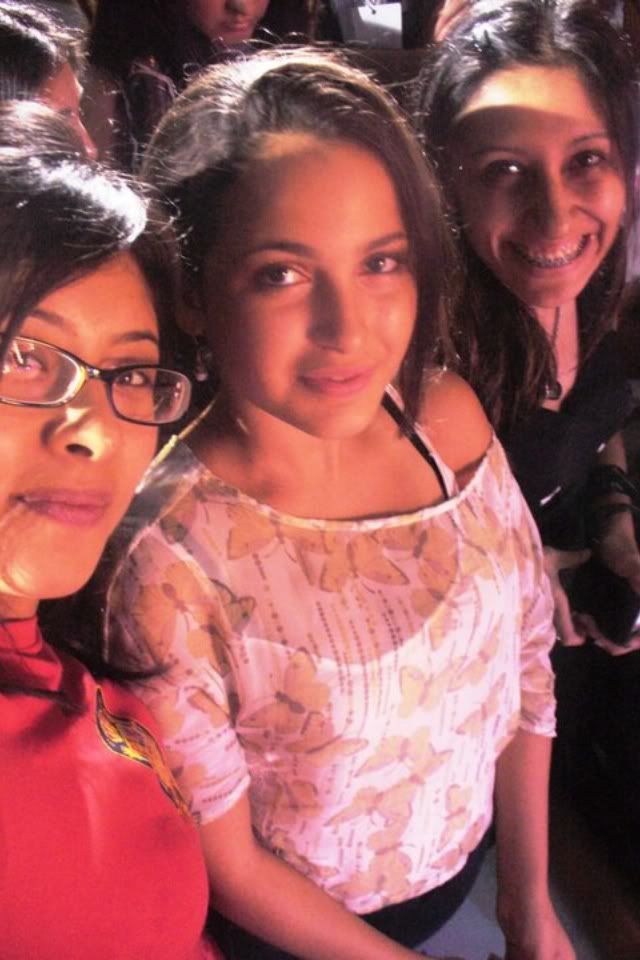 Cbs early show