Hey!
Just wanna share, a year ago, well, a year and almost a day ( may 1st like 2 am) i was receiving enrique at the airport,,,,
The afternoon before that night, my friends were coming to buenos aires to see him =)) we were sooooooooooooooooooo excitinggggggggggggggggg! We 've been friends like 6 years, and the other 2 girls were known girls but not friends, but they were coming and we planned stay here togheter just to see Enrique =)...... well i knew enrique was getting here like 1 am or something so believe me i was sooo happy and nervous because the last time i saw him was in 2005 but couldn't talk to him or something that time :( so i was so impatient and exciting and happyy omgggggg... unfortunately my friends, couldn't get here for his arrival, they got late :(:( so i wen't alone to the airport like 1 am...... they got here the day after on the morning and told them about it!
Enrique didn't arrived that late wich surprised me, i was afraid getting late, but i only waited like 1 hour or something =))
Once i got there, i met some other fans and start talking.....
Suddenly everyone start screaming enrique enrique! lol i wasn't prepared, and i did my best to climb to the top of the fence lool to see enrique, cos all the fans were screaming and pushing you :s and here in argentina, the fans are really crazy, including me lol but im a good girl jajajaja soo godddddddddddd he was coming and i was aaaaaaaaaaaaaa! not yelling but sooo happy he started talking to the press and didn't know what he was saying i was just looking at him like a fool and suddenly he looked at my sidee yaaaaaaaaaaaaaaaaayyyyayyyyy and he looked me at the eye looooooooooool was my moment jajajajajaaa was sooo greatt and here i post the pics i found on enriqueonline.org (promoting the site? lol no =p) the ones that captured my moment =))) you can see my hand loool and mi cell phone... it was soo cold... i remember his big smile =DDD and his eyes (L)
Enjoy!
Kiss
Flor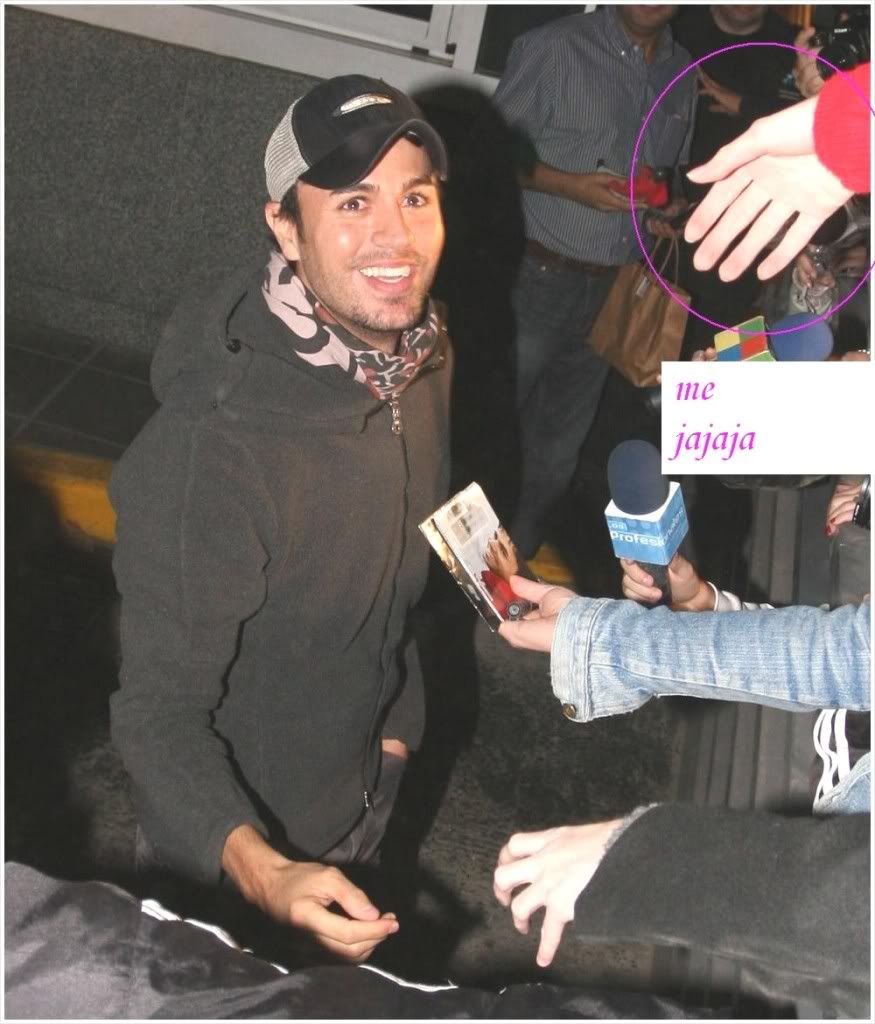 miss him :(
hope i can see him again