I STILL CANT BELIEVE I WON!! WOOOOOOOOOOHOOOOO! THIS IS LIKE A MIRACLE!! HAHAHAHA! THE ONLY TIME I WON SOMETHING WAS BACK IN 2001 FOR ENRIQUE'S EVENT IN MIAMI...BUT THIS PRIZE THAT I WON WAS AMAZING!! MANY OF U ALREADY SAW MY TWITTER AND MY FACEBOOK, I ALREADY POSTED SOME PICS. REMEMBER THE CONTEST FROM ATLANTICO ON FACEBOOK? MANY OF U MAYBE DONT REMEMBER...BUT IT'S THIS ONE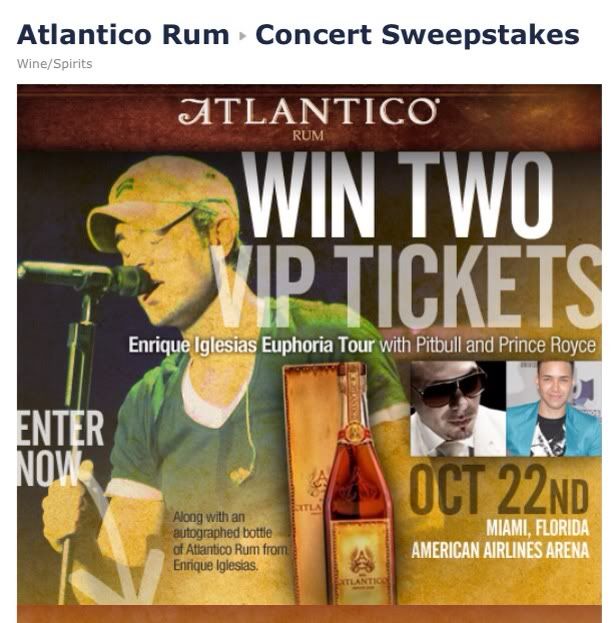 I ENTERED MY INFO , I DONT REMEMBER EXACTLY WHEN, BUT I JUST PUT MY INFO BUT I WAS LIKE WHATEVER SINCE I NEVER WIN...HAHAHAHAA!! SO I DIDNT EVEN PAY ATTENTION.
WELL, ON TUESDAY WHILE WORKING, I GOT A PHONE CALL, BUT I DIDNT ANSWER, SO THEY LEFT ME A VOICEMAIL....AHHHHHHHHHHHHHHHH!! WHEN I HEARD THAT VOICEMAIL...OH MY GOD!! I COUDLNT BELIEVE IT ...I WAS LIKE "NOOO! NOOO ! ME??" HAHAHAHA!! I WAS SOOOO HAPPY THAT DAY!! OH MY GOD!! THE GUY THAT CALLED ME WAS SOOOOOOOOOOOOO NICE!!!!! SO HE GOT ALL MY INFO TO SEND SOMEBODY ELSE TO GIVE ME MY PRIZE INCLUDING 2 BOTTLES!! WOOOOOOOOOOOOHOOOOOOOOOO!!!
ALSO, I DIDNT WANT POST ANYTHING YET ON TWITTER OR FACEBOOK BECAUSE I WANTED TO HAVE THE PRIZE IN MY HANDS TO BE TRUE...HAHAHAA!! BUT ALTANTICO POSTED IT ON THEIR FACEBOOK PAGE AND EVERYBODY FOUND OUT ABOUT IT HAHAHAHA!!...SO FUNNY!!...THANK U FOR EVERYBODY THAT WAS HAPPY FOR ME! THANK U!
WELL, THE GUY THAT WAS GOING TO DELIVER THE STUFF TO ME DIDNT COME ON WEDNESDAY, SO I WAITED 1 MORE DAY AND FINALLY THURSDAY ...I WAS EVEN MORE NERVOUS 'CAUSE I WAS SCARED I WAS NOT TO GET ANYTHING, I SHOULDNT BE LIKE THAT BUT IM SO NEGATIVE! HAHAHAA!...SO FINALLY THE GUY "PEDRO" CAME TO MY HOUSE...HE WAS SO NICE!!!! HE GAVE ME 2 BOTTLES, POSTERS, POSTCARDS AND MY TICKETS!!...I WAS SOOOOO HAPPY!!!...WOOOOOHOOOOOOOOOO!!!
HERE ARE SOME PICS!! GOSH!! THANK U ATLANTICO!! CANT BELIEVE I WON!! I KNOW MANY OF U MIGHT SAY "INES U R ALWAYS LUCKY" BUT I WORK A LOT ON THAT...LIKE FOLLOWING ENRIQUE AND SPENDING LOT OF MONEY FOR HIM, BUT I WAS NOT ABLE TO WIN ANY CONTEST AT ALL..HAHAA!! SO THIS IS LIKE A SURPRISE FOR ME...AND FREE! HEHEHE!...WELL, THE TICKETS THAT I GOT ARE NOT THAT GOOD BUT IM INVITING MY SISTER...YAY!!! SHE IS SO EXCITED TOO...WOOOHOOOOOOOOOOOOOOOO!!! AND THE BOTTLE! HE SIGNED IT!! AHHHHHHHHHHHHHHHHHHHHH!! "INESITA CON AMOR ENRIQUE" AHHHHHHHHHHHHHHHHH!! IM SO HAPPY!! THANK U ENRIQUEEEEEEEEEEEEEEEE!!! AHHHHHHHHHHHHH!! CANT WAIT FOR THE CONCERT!! IM JUMPING IN 1 FEET!! WOOOOOHOOOOOOOOOOOOO!! AND MY FRIENDS SMRITI AND LYNDA ARE HERE!! FROM AUSTRALIA!! THIS IS TOO MUCH FOR ME! WHAT A GREAT WEEK!! AHHHHHHHHHHHHHHHHHHHHH!! IM GETTING READY FOR THE CONCERT!! WOOOOOOOOOOOOHOOOOOOOOOOOOOOOO!! I HOPE I GET TO SEE ALL THE FANS :) ...ENRIQUE!! GET READY!! IM JUMPING ON STAGE! HAHAAAAAAAAAAAAA! BESOS!!